Long Term Storage: How To Secure Stuff While You're Travelling
There are several differences between long-term storage and short-term storage. Let us give you safe storage tips and how to store your stuff for a lengthy period of time properly.
Safe Storage: Efficient Long Term Storage Tips
There are numerous possible scenarios why people are looking to store their things for an extended period of time. There are some instances where people pack up their entire lives for a variety of reasons like deployment, long-term travel, or living abroad for some time.
Sadly, figuring out what to do with your things whilst you are away from home for a few months (maybe years) can be taxing. Regardless if you are headed on a backpacking trip across Europe or an American adventure in your RV, troubling yourself with worries about safe storage for your stuff is the last thing you want to do.
Depending on your situation, it is a possible option to do away with your residence and store all your stuff in a long term storage unit. As a matter of fact, there are numerous advantages to renting safe storage units to keep your belongings secured for a long time. Attaining peace of mind and saving money are the two key benefits of having personal storage.
Long term storage packing tips
Before you stow everything in your self-storage unit and go, read and learn about some safe storage tips first.
Estimate the number of items you need to store
Before you make up your mind on what to do with your items while you are away, consider your requirements. Will a small storage unit suffice to house everything you need to store? Would you rather pay for bigger storage or your apartment's monthly rent? There are different sizes of storage units to cater to different needs. Make sure you are getting the right size storage unit to avoid paying for more than what you need.
Pack your items suitable for long-term storage
Pack and store your stuff properly to ensure that they are well secured while you are away. It may sound like a generic tip to pack your things carefully, but it is of the utmost importance. Ensure breakable items are packed well, and all boxes are correctly stacked. Keep everything off the floor as much as possible. Haphazardly storing your stuff, even for a short while, will result in avoidable stress and irreversible damage.
Get a climate-controlled safe storage unit if needed
Furniture and wardrobe that are sensitive to climates, like electronics and fur coats, need to be kept in a space with climate control. Climate-controlled safe storage units may cost a bit more, but it is worth the peace of mind it can give knowing your stuff is safe and secured from extreme temperatures. If you are planning to keep your things store for more than a season, getting a climate-controlled safe storage unit is highly recommended. Keeping all your stuff stored through intense temperature fluctuations has its own drawbacks to consider.
Prepare travel and storage insurance
For extra security, have the contents of your storage insured while you are away. Study the policy guidelines to see if you would need additional insurance when you decide to rent your safe storage unit. Make sure the policy extends its coverage to items that are store offsite and considering long-term storage.
Have someone check the contents of your safe storage unit periodically
It is not necessary, but you can appoint someone you personally know to drop by the storage unit to check on your items at your behest. They can also ship out an item that is stored in your safe storage to you should you have a sudden need for it. This person will also be responsible for responding to any issues that need to be promptly addressed. This is especially important if you will be storing a car for more than a month. If the car is up and running, taking it for a spin every now and then will help avoid unnecessary damage from being idle for a lengthy period of time.
Set up autopay
Paying the rent fee for your safe storage unit while you are away should be convenient and hassle-free. To avoid late fees, or worse, having your items auctioned off, set up a payment system to be automatically deducted from your bank account of choice. This is one less thing to worry about while you are away. This tip is also applicable to your other services you are subscribed to, like Netflix or a phone plan.
What is the best way to prepare furniture for storage?
Here are some tips to make sure your belongings are well prepared for long-term storage:
Make sure everything is completely clean
Keep your furniture preserved by only storing clean items in your garage or self-storage unit. Cleaning everything before storing them will lessen the chance of dust and mold accumulate. It will also prevent the pungent smell from sticking to your items.
Disassemble everything
Before relocating furniture, take everything apart as much as possible. This includes bookshelves, chairs, tables, desks, and more. Taking this extra precautionary measure will make your moving truck, and eventually your self-storage unit or garage, more convenient to pack. Not to mention how it will lessen the chance of your belongings scratching or breaking in the process of the move.
Keep everything off the floor
If you are storing your things in a storage space with no climate control feature, do not place your furniture or anything that you do not want to be ruined directly on the floor. You can use cinder blocks or pallets to raise them a little bit as an added layer of precaution against flooding. If you don't have any cinder blocks or pallets, you can settle with a drop cloth or cardboard. Anything is better than nothing.
What do you do about your car while you're away?
Do not engage the handbrake when you leave.
Park indoors or use a car cover.
Spark plug care.
Clean the interiors before parking the car.
Fill up the fuel tank.
Battery maintenance.
Paint job protection.
Jack up the car
Change oil and filters
Keep the tires inflated properly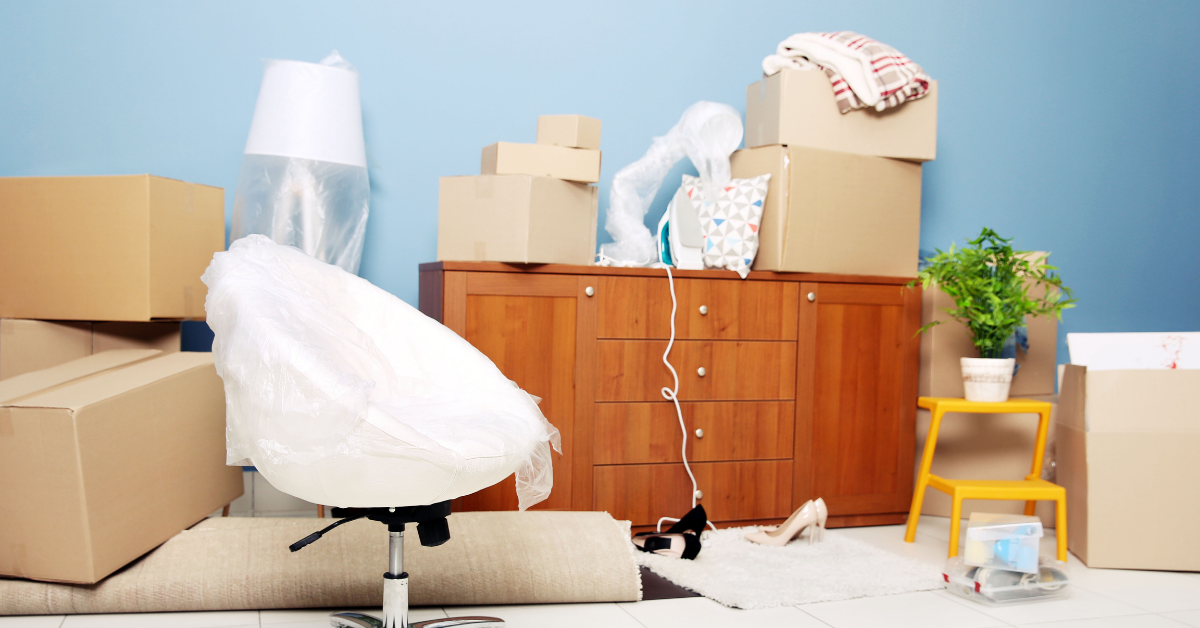 How do you store household items?
Here are some tips to properly prepare household items for long-term storage:
Preserve your furniture by wrapping it
Ensure all your belongings are covered completely, including the floor. Before you put your things inside the self-storage unit or garage, cover the floor with a durable plastic sheet to avoid floor moisture from getting into your stuff. This is a crucial step if you are renting a self-storage unit without a climate control feature.
Another thing, never keep furniture in a storage space without covering it first. You can use blankets, old sheets, plastic wrap, or drop cloths as a makeshift cover to protect them from moisture build-up and dust.
Add additional protection for items made of glass
Naturally, objects like mirrors and glass tabletops need an extra layer of protection. The first step is to wrap the glass item with packing paper. Do not tape the paper to the glass directly if you do not want to deal with a sticky residue later.
Latest posts by Mason Fairbank
(see all)